Available in three sizes to fit any attention span.
People can't stop talking about fidget spinners, so it was only a matter of time before someone found a way to stick one up their butt.
BEHOLD, THE FIDGET SPINNER BUTT PLUG. HERE TO GIVE NEW MEANING TO "SIT AND SPIN!"
GlowFyourself / Via etsy.com
I, for one, am grateful that this news comes to us in the form of a properly-shaped butt plug, rather than a story of someone getting an actual fidget spinner stuck up their bum.
Flared base? Check. Smooth texture? Check. Butt-safe stainless steel? Check. This can go up your butt! (Well, probably. Depends on the manufacturing quality. WE ARE NOT OFFICIALLY ENDORSING THIS. DON'T SEND US YOUR HOSPITAL BILLS IF ANYTHING GOES AWRY.)
Via etsy.com
Here to help keep that A$$ focused, we present to you our custom-made fidget spinner butt plugs! That's right, help combat ADHD and get stuff done with your very own booty spinning adventure toy!

Available in 3 sizes to fit any attention span, get yours today and get $hit done!

More details to follow soon, novelty use only, don't do anything stupid lol
So…I have a few questions.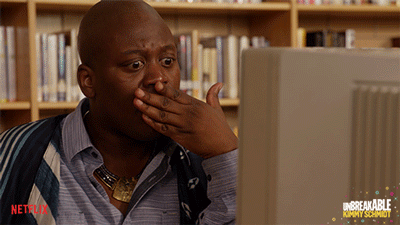 Are people actually buying this? (THEY ARE.) Is it physically possible to spin it when it's in, or do your butt cheeks get in the way? Will it actually make certain people less distracted in bed? What kind of creative contorting does it take to reach back and spin it yourself? If you're ass-up and spinning it, will you look like a tiny helicopter? Is that anyone's kink out there?
IF YOU KNOW THE ANSWERS TO THESE QUESTIONS AND MORE, LET ME KNOW IN THE COMMENTS.
Netflix / Via giphy.com
---